← Back to portfolio
Students Inspired to Explore New Major Options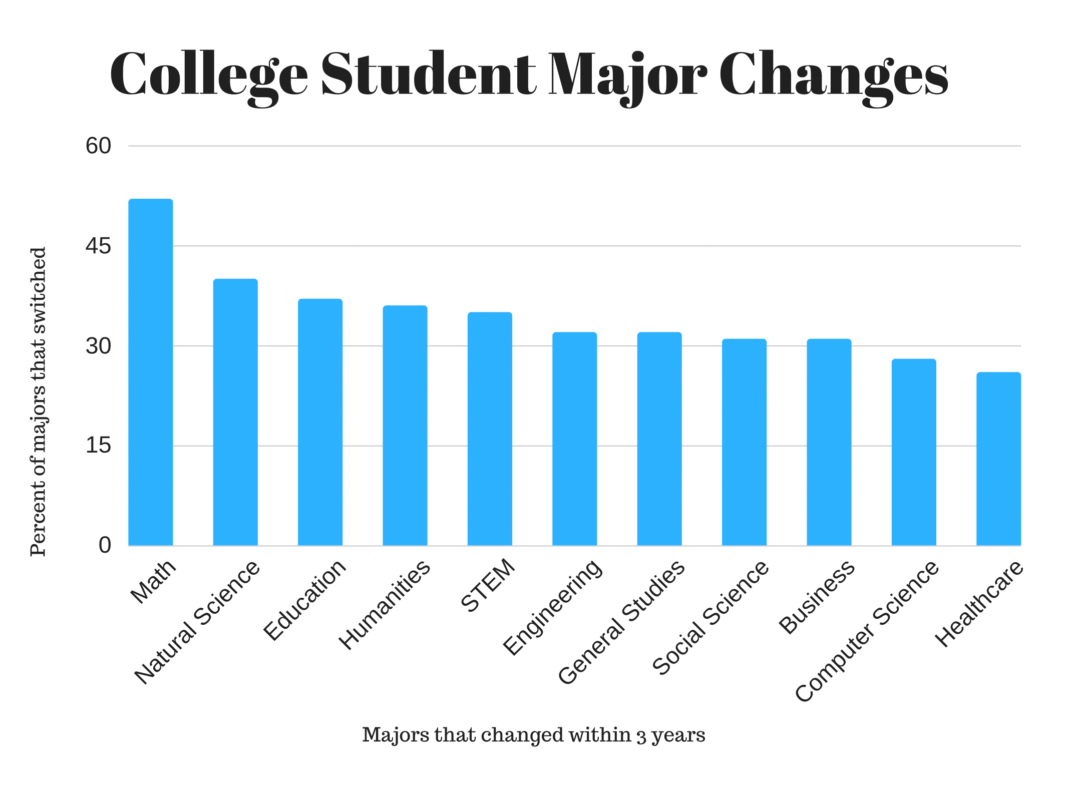 Access this article on the Baylor Lariat website here.
By Madalyn Watson - Reporter
As of December 2017, about 30 percent of undergraduate students change their major during their first three years of college, according to the U.S. Department of Education. Baylor students are no exception.
Los Angeles sophomore Eric Albano made the decision to switch from interior design to the pre-business track at the end of his freshman year.
"If I pursued interior design, art would kind of turn into a chore rather than a hobby, and I think it would be more fun as a hobby, rather than having to be forced to produce something. The art related to my job would turn very formulaic, I don't think it would be fun for me at all," Albano said.
Albano's father owns an apple orchard in the Central Valley of California. He explained that getting a degree in business means he could possibly take on roles such as a farm manager, working beside his father in the family business.
"I worked [for my dad] over the summer thinning trees in the orchard. The people who I work with are very interesting. They all come from different backgrounds — most are not from the United States, most are from South America," Albano said.
Albano said around 2012, his father and cousin-in-law attempted to begin a cider business using the excess apples so they would not go to waste. Even though he was young, Albano played a role in the manual labor of the business. His father became too busy with the orchard and his cousin-in-law was running two dentistry practices, so they were unable to expand the business other than making a few test samples.
"We have pictures of me when I was like 13, grinding up apples in our backyard. I feel like that would be a good business model," Albano said. "I'd be like, 'Hey, look at me!' I was that little kid out here grinding up apples for this cider business that I kind of intend to see it to the finish."
Dallas junior Folaké Obasanya said she was inspired to switch from double majoring in sociology and journalism to majoring in social work.
"Specifically with sociology, I did not like the lack of job security for after college because that was a big fear of mine and my mom, so I [added] journalism," Obasanya said.
Obasanya had an internship with Sunshine Gospel Ministries in Chicago, where she worked with kids in impoverished communities. During a train ride that summer, she complimented a woman's tattoo of a bicycle, and it changed her path at Baylor.
"She was telling me that she was a social worker. I was like 'social worker?' I've kind of heard of those, but she was specifically a litigator, or she was working to be a litigator. And [she said] 'Yeah, I'm just really passionate about social justice,' and I was like, 'Wait, I am really passionate about social justice,'" Obasanya said.
She looked into social work as a major when she returned to Baylor and realized it was what she wanted to do for the rest of her life.
"I feel like I had a divine intervention. I really feel like everything that was happening was God telling me that he wants me to be a social worker, or at least change my major to that," Obasanya said.
However, Obasanya said at first, she did not enjoy her classes and worried she would regret her decision.
"I prayed, 'God, open up my heart. If this is really what you want me to do, you would give me a heart to enjoy this.' And this semester, I am in love with all of my social work classes," Obasanya said. "I enjoy going to every single one of my classes. Even if I'm not feeling well or I am not feeling like going to class, I'll still go, and I still never regret it."
Houston junior Karin Simpson began her college education with three semesters at Houston Baptist University before transferring to Baylor University last year as a health science studies major with a pre-physical therapy concentration. At the start of this semester, she changed her major to sociology.
"I just have to take two more semesters, and I graduate in December. And that's weird because normally you'd think someone who transfers in late and someone who changes their major late, you're going to think they're going to stay for a lot longer. As my friend said, I broke the system," Simpson said.
Simpson said she was able to tackle this incredible feat because a large number of her classes from the pre-physical therapy track transferred over as electives. She also explained the reason she decided to change her academic path was because she realized she was not as passionate about the profession as she thought she was before.
"I realized that the people around me who wanted to do physical therapy were actually out there actively shadowing physical therapists and excited about it, and I was just sitting at home and fine. I didn't really care that much, or as much as I thought I did. It didn't bother me that I wasn't shadowing physical therapists, and I think that was definitely a big, red flag. I realized that I don't think that's for me," Simpson said.
After taking a sociology class at Baylor, Simpson not only realized there were similarities between the two fields — that they both help people — but also that she felt a stronger tie to the subjects discussed in her sociology classes than in her health science classes.
"I am happier in this major. I enjoy sitting down in the classes and being like, 'So tell me more,' or 'What is going on?' Like I enjoy going to the classes. It's still difficult; It's challenging in a completely different way, but it's an enjoyable challenge," Simpson said.
Like Obasanya, Simpson and her family worried about the occupations she could find after completing college. Unlike Obasanya, Simpson discovered an interest in the field of sociology she wants to pursue. Simpson said she is planning on attending graduate school for higher education after she graduates.
"It's so fascinating what staff and faculty do to help students and how they impact students' lives. We don't realize how much a staff member does behind the scenes in order for you to progress. They're back there pulling the strings, trying to create events and things to help make your college life memorable," Simpson said.
Simpson is already pulling the strings behind the events at Baylor. She is a part of Union Board and is an intern for Mito Diaz-Espinosa, the program manager for First in Line, a program that helps first-generation college students. Diaz-Espinosa has inspired her to not only pursue sociology, but to pursue higher education.
"I see that [higher education] is not a perfect system. There's flaws in it just like everything else, but there can be ways to improve it, ways to try and fight it. The main thing is helping students," Simpson said.
Obasanya had some advice for other Baylor students who may be in a similar position to her before she switched to social work.
"If you feel like you want to change your major, just do it. Give it some time, pray about it or get some guidance from other people. Everything will work out," Obasanya said.